Amuseable Pink And White Marshmallows
Description
Amuseable Pink And White Marshmallows are two soft marshmallows joined together at the hip. The left marshmallow is white and the right one is pale pink. They have black button eyes, black stitched smiles and airbrushed, rosy pink cheeks. They both have brown, fine corduroy feet. They measure approximately 9 x 15 cm.
Message
I am
Amuseable Pink
and White Marshmallows
Please look after me.
Collectors note
Amuseable Pink and White Marshmallows were released in 2023.
They are part of the Amuseables range which feature random objects, such as fruits, vegetables and plants with faces.
They were available in one size.
The links below are affiliate links. If you purchase something by clicking through one of the links below, we may receive a small commission. This doesn't cost you anything additional and helps to fund this site.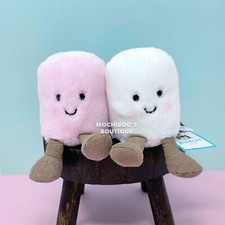 69.99 USD
600**, US
No results available currently from eBay.