Blossom Silver Bunny Comforter
| | |
| --- | --- |
| Theme: | Baby |
| Subtheme: | Bashfuls, Comforter |
| Style Number: | BBC4S |
| Colour: | Grey |
| Release Date: | 01/01/2021 |
| Release Year: | 2021 |
| Retirement Date: | - |
| Animal: | Rabbit |
Description
Blossom Silver Bunny Comforter is a light grey coloured rabbit with black eyes and a peach coloured nose and her head, arms and legs are attached to a flat, triangular soother. She wears floral pyjamas and measures 25cm long.
Message
I am
Blossom Silver
Bunny Comforter
Please look after me.
Collectors note
Blossom Silver Beige Bunny Comforter was released in 2021.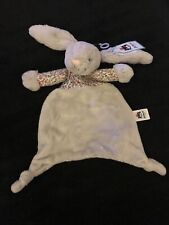 44.99 USD
558**, US
No results available currently from eBay.