Bashful Beige Bunny – Tiny
Description
This beige Bashful Bunny has black button eyes and a peach coloured nose. She has long, floppy ears and arms and tiny legs. She is 13cm tall.
Message
I am
Tiny Bashful
Beige Bunny
Please look after me.
Collectors note
This is the tiny size of Bashful Beige Bunny.
Bashful Beige Bunny was available in seven different size options: tiny, small, medium, large, huge, really big and very big.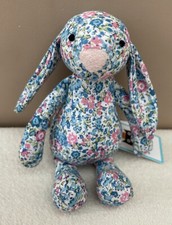 32.64 USD
SP2***, GB
No results available currently from eBay.