Description
Santa Ricky Rain Frog is a round, green frog with black button eyes, a black embroidered mouth and black nostrils. He has a grumpy expression on his face. He wears a red and white Santa outfit with a black belt. He measures approximately 16 x 12 cm.
Message
I am
Santa Ricky
Rain Frog
Please look after me.
Collectors note
Santa Ricky Rain Frog was released in September 2023.
He is based on the original Ricky Rain Frog.
He was available in one size.
The links below are affiliate links. If you purchase something by clicking through one of the links below, we may receive a small commission. This doesn't cost you anything additional and helps to fund this site.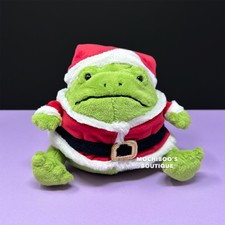 99.99 USD
600**, US
No results available currently from eBay.