Amuseable Croissant – Small
| | |
| --- | --- |
| Theme: | Amuseables |
| Subtheme: | Amuseables |
| Style Number: | A6C |
| Colour: | Brown |
| Release Date: | 01/01/2019 |
| Release Year: | 2019 |
| Retirement Date: | - |
| Animal: | Pastries |
| Size: | Small |
Description
Amuseable Croissant is a light brown croissant with a curved body and twisty ridges. He has black button eyes and black stitching for his mouth. He measures approximately 7 x 20 cm.
Message
I am
Small Amuseable Croissant
Please look after me.
Collectors note
Amuseable Croissant was released in 2019.
He is part of the Amuseables range.
The links below are affiliate links. If you purchase something by clicking through one of the links below, we may receive a small commission. This doesn't cost you anything additional and helps to fund this site.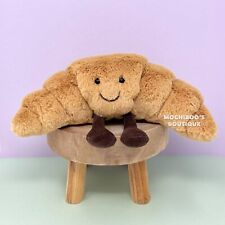 69.99 USD
600**, US
No results available currently from eBay.