Munro Scottie Dog – Medium
Description
Munro Scottie Dog is a fuzzy, white scottie dog with black button eyes and a large black nose. He has tiny, white ears with a pale grey inner ear. He is posed in a sitting position. He measures approximately 23 x 13 cm.
Message
I am
Munro Scottie Dog
Please look after me.
Collectors note
Munro Scottie Dog was released in 2022.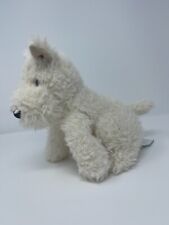 25.00 USD
940**, US
No results available currently from eBay.