Description
Lavender Dragon is a pale purple dragon with black button eyes and pale purple nostrils. She has sparkly purple ears and wings and a ridge of sparkly purple spikes running along her back. She measures approximately 19 x 66 cm.
Message
I am
Huge Lavender Dragon
Please look after me.
Collectors note
Lavender Dragon was released in 2022.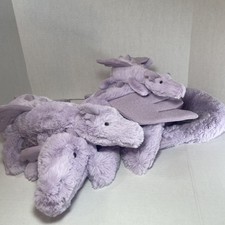 589.00 USD
452**, US
No results available currently from eBay.