Description
Maya Octopus is a purple octopus with black embroidered eyes and black stitching for her mouth. She has eight, curly tentacles with cream corduroy underneath. She measures approximately 14 x 7 cm.
Message
I am
Tiny Maya Octopus
Please look after me.
Collectors note
Maya Octopus was released in 2023.
She was available in a tiny, little, large and really big size.
The links below are affiliate links. If you purchase something by clicking through one of the links below, we may receive a small commission. This doesn't cost you anything additional and helps to fund this site.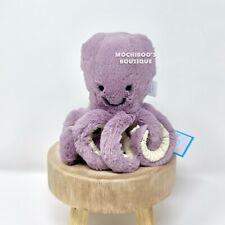 46.84 USD
600**, US
No results available currently from eBay.